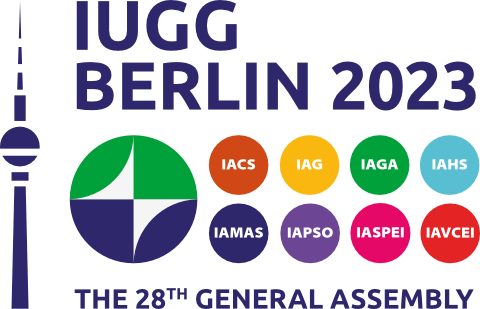 From 11 to 20 July, scientists from DETECT will present their research at the 28th International Union of Geodesy and Geophysics (IUGG) General Assembly 2023 at the CityCube Berlin in Berlin, Germany.
This General Assembly is a special opportunity for participants from all around the world to come together and discuss the full range of geodetic and geophysical themes and further enhance the important interdisciplinary collaboration for a better understanding of how our Earth system works.
You can find the full program here.
DETECT presentations:

Posters
B.D. Gutknecht, A. Springer, J. Kusche: JG05p-117: Water mass fluxes and budgets at catchment-scale over Europe in the Collaborative Research Centre SFB 1502 DETECT
C. Hacker, F. Li, A. Löcher, J. Kusche: G03p-212: Reconstructing GRACE-like TWSA maps from 1990 onward by combining data-driven methods with time variable gravity fields from SLR range analyses
Oral presentations
Y. Ewerdwalbesloh, A. Springer, K. Schulze, V. Sivaprasad, H. Gerdener, J. Kusche, C. Montzka: IUGG23-2446: Insights from GRACE data assimilation in the presence of heatwaves using two different hydrological models over Europe
L. Fenoglio, H. Uyanik, J. Chen, J. Kusche: IUGG23-4820: Rhine river discharge from modern-era satellite altimetry
V. Sivaprasad, Y. Ewerdwalbesloh, S. Moradi, A. Springer, H. Vereckeen, C. Montzka: IUGG23-2331: Choosing the best preprocessing method for soil moisture data assimilation
H. Uyanik, J. Chen, L. Fenoglio, J. Kusche: IUGG23-4626: Monitoring River Discharge and Water Height Changes in German Rivers, Lakes, Reservoirs by using Fully-Focused and Unfocused SAR Altimeter Products